Outlook File Repair Software – Recovery Simplified Here!
In many situation while syncing or sharing information of Outlook Data File (.pst) in Microsoft Outlook, users may face certain problems due to PST file corruption. A file may be corrupted due following reasons: improper shut down of system, external intrusion attacks, different bugs/mallware in the PST file storage location, wrong selection of any third party software, or oversized Outlook Data file.
To fix such problems, there are two ways: using Microsoft in-built utility as manual solution and choosing third party tool as an automatic solution. But sometimes manual method may take lot of time to repair PST file data if they are large in size and also it fails to repair hard deleted and corrupted Outlook files. So to resolve these issues, Microsoft PST Repair Tool can be chosen as a permanent solution, which is built especially for the users who do not have much technical skills. You can download and use the free trial version the software before getting its full access.
Restore Outlook Emails, Contacts & Calendar with Microsoft PST Repair Tool
With Outlook Repair tool, user can easily restore PST file along with its entire data items. The software possess all the required features that the users stand in need of and they are as described as follows:
Simple User Interface: The PST Repair software is built by keeping the non-technical users in mind so that even the users who have lack of technical skills, can execute the tool easily. And hence you will find the layout of the tool is very user-friendly providing you easy to understand steps.
Automatic Prerequisite Check: After running the PST Repair utility, it automatically checks for all the requirement such as: Outlook, Outlook Component, Outlook Profile configuration and Permissions which are is needed for the tool to function properly.
Add multiple PST file: With Add File button, users can open as many PST files as possible in Outlook directly within the Outlook repair tool instead of minimizing the software window and browsing each files from your computer hard drive storage.
Lost| Corrupted Outlook File Repair: Using Advance Scan option in the Microsoft PST repair, users will be able to to rebuild corrupt profile in MS Outlook associated with each PST file with the aim to restore lost Outlook items: emails, contacts, calendar, appointments, etc.
Saves Scan Result: After scan is completed the software will ask you to save the scan result which can be utilized to see the details of scan in future.
Preview Outlook Message| Attachment: The software gives the quick preview of entire Outlook message and its attachment. You can preview the data and their attachment for all Outlook emails present in added PST file by selecting the desired email items.
Swap Display View Mode: From the Switch View option provided by PST repair utility, users can change the screen viewing mode from horizontal (default mode of application) to vertical mode.
Thrice Export Options: This is the additional feature of Microsoft PST repair software by which a user can export the repaired data to three different options i.e. PST, EML and MSG. This advantage will enable users to access Outlook data in other email clients that supports EML file.
Enabling Mail Filter: With this option, users can repair only emails from PST file by applying the filter on emails and choosing the date range in between From Date & To Date.
Naming Conventions: In case to export the recovered data to EML file, PST repair software provide one added advantage i.e., Naming convention. This convention helps user to sort the items that need to export by different options such as subject, date and Sender of the mail.
Additional Features: Free Download Microsoft PST Repair Software
Recovery Simplified! Outlook Repair tool is endowed with interactive, user-friendly, self-descriptive, and elementary to understand interface, which will talk to you move along the Microsoft Outlook PST repair process. Also, this intuitive recovery utility does not require high system knowledge or product intelligence. No special skills are necessary to use Outlook Data Recovery tool to repair Outlook file. Therefore, Microsoft PST Repair tool makes very important role for an entry-level computer user. Outlook File Repair tool is suitable for every kind of users, no matter they are an expert or ordinary users.
---
Solve Following PST File Errors with Outlook Repair Tool

The message you specified cannot be found – Outlook cannot open this item
Sending and Receiving reported error 0x800CCC0F
An unknown error has occurred. 0X80040119 & 0X80040600
The operation failed. An object could not be found
Cannot open your default email folders. The information store could not be opened
Outlook error 0x800ccc13 cannot connect to network
Datailed Specifications of Outlook File Repair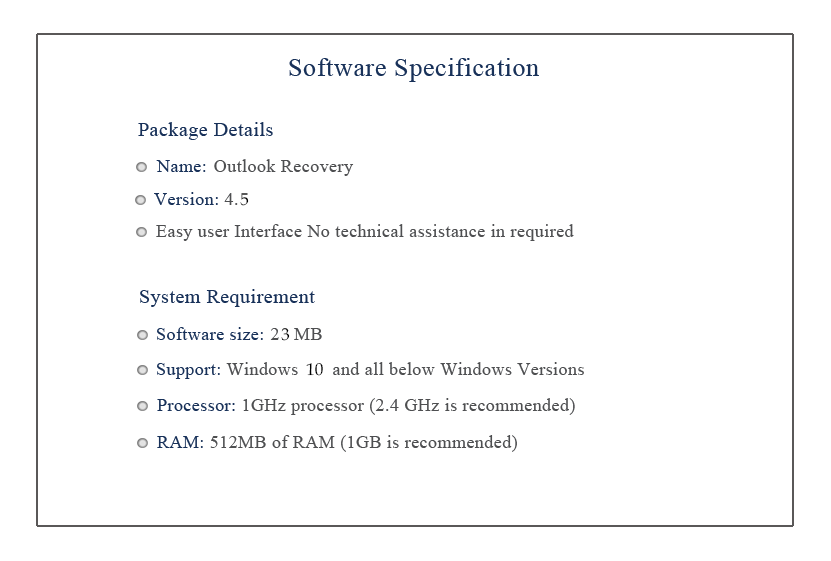 Workings of Microsoft PST Repair Tool

Repair Corrupt Outlook Profile with Two Available Versions

Free Demo:
You have the facility to see the working before paying. Yes! demo version of Microsoft PST Repair tool is FREE! Using the demo, you can see the Microsoft Outlook file repair process and can also view the scanned files. Only thing you cannot do with the help of demo version is that - you cannot save recoverable items to your system.
Full Version:
Get the Software in FULL Working Mode: Garbbing the full licensed version of Microsoft PST Repair tool save users from getting into grave data loss situation. It will help you easy recover all Outlook email items, which must be very crucial for you. This would be an reasonable way to recover Outlook files. Using the Full Version, you can repair corrupt PST files; view recoverable items and finally, save them to a self chosen location on your system.
FAQ's regarding Outlook Repair Tool

How effective is this software to repair Outlook profile?
For repairing Outlook profile which is highly corrupted, the tool automatically looks into the damaged part of profile and made all the required changes to it. This feature make Microsoft PST repair tool, a best suitable tool to restore Outlook profile by keeping all the data of PST file safe.
I have 15 GB of PST file, can this tool allow me to repair Outlook data file easily?
This software is able to repair even 20 GB and more large sized PST file. And the best thing is that it will the repair higher level of damage without any data loss.
What versions of Outlook, does this software support (I have Outlook 2002)?
This is another advantage that this software by which the tool is compatible with all versions of Outlook till the date and can open the file of all Outlook version that needs to repair in the software itself.
Can I repair multiple PST files & folders all at once?
Yes, the software enables the user to repair PST file in batch. It means you don't need to wait until repairing of one PST file to complete.
What will be the PST file type after they are repaired?
After repairing damaged or corrupted Outlook PST, the software will save the restored PST file as a UNICODE type PST file.
Which Outlook versions does the software support?
The Microsoft PST repair tool suppors all Outlook versions available till the date, i.e. Outlook 2016, 2013, 2010, 2007, 2003, 2000 and all below versions.